"Building Evidence!"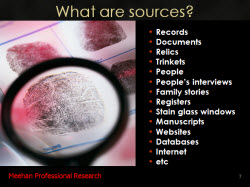 As genealogists, we often find ourselves challenged by elusive ancestors and sketchy information. We gaze at our sources, whether records or photographs, hoping the information we seek will magically leap off the page. To build evidence, genealogists must evaluate each piece of information separately asking who furnished this information and why. Join Lyn, and learn the GPS of Information Processing. Demystify the definitions of sources, information, evidence and proof as she demonstrates through direct and indirect information how evidence analysis works.


You will learn how to

GPS Evidence Analysis
"Sources give us information from which we select evidence for analysis. A sound conclusion may be considered proof."
—Evidence Explained, Elizabeth Shown Mills


What you take home
A wealth of knowledge from an experienced library professional and researcher! Lyn's email, should you have any follow-up questions and an information package filled with new resources for your next research challenge.