"Canada's National Treasure"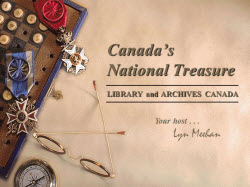 Don't know where to begin with your Canadian research? Unlock the uncertainties. This presentation electronically introduces you to the Library and Archive Canada (LAC) collections. Learn as Lyn virtually navigates through this website, tantalizing you to an endless variety of federal Canadian resources: censuses, land records, immigration and naturalization information, military records, photographs, along with a greater wealth of knowledge that will benefit genealogists in their heritage quest.


You will learn how to

how to navigate the Library and Archives Canada website

… how to search topics and sub-topics, and use the databases and important resources they offer

… the secondary sources available on the website and where to locate them


… that this fantastic website is a gold mine of information and absolutely free
What you take home

A wealth of knowledge from an experienced library professional and researcher! Lyn's email, should you have any follow-up questions and an information package filled with new resources for your next research challenge.