"City Ancestors, Civic Records"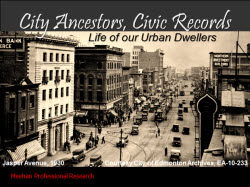 Researching in heavily populated areas requires delving into civic records. Learn as Lyn shares her strategies for pinpointing urban ancestors using dominion, city and telephone directories, burgess rolls, maps and land records.
You will learn about
Directories

Voter's Lists

Insurance Plans


Converting civic addresses into legal land descriptions (land records)
What you take home
A wealth of knowledge from an experienced library professional and researcher! Lyn's email, should you have any follow-up questions and an information package filled with new resources for your next research challenge.