"Exploring 19th-century U.S. Records"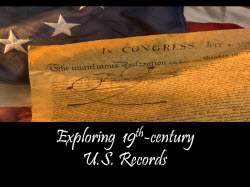 Norwegian Ole Trulsen Green had a vision as he embarked on an 1868 journey to the American Midwest. Did he (and countless emigrants like him) seek land, wealth, a woman? Learn as Lyn retraces Ole's footsteps using pre-1900 resources, demonstrating that the process of discovery extends beyond primary sources and that our relatives sometimes cleverly mislead us. Discussion will delve into types of censuses, vital and land records, and the importance of clues gleaned from lesser used sources.


You will learn how to

How to tap into federal, state and territorial censuses

Know how to find different types of land records

Locate county courthouses, and understand what types of records are available


Locate state archives, libraries and historical societies, church records, track records, naturalization papers and so much more
What you take home
A wealth of knowledge from an experienced library professional and researcher! Lyn's email, should you have any follow-up questions and an information package filled with new resources for your next research challenge.