"Finding the Ancestral Trail: Immigration and Migration"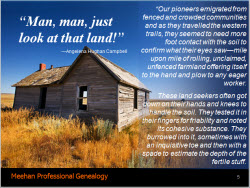 The solution to finding an immigrant's origin is often in evaluating records held in the country they emigrated to. To be successful, researchers need to build a solid trail of evidence to their earliest immigrant family member, including collateral lines. Unless a village is known, researching collections in the migrant's cultural country can be cumbersome or impossible. However, in recent years historians have unearthed shrouded emigration resources in foreign archives. With skilled expertise, we can envision a brighter future in reconnecting expatriates to North America with electronic technology.



You will learn how to

Learn about your ancestor's place in history

Build A Solid Trail: Find print and online foreign emigration resources

Profile the elusive immigrant

Overcome spelling alterations

Explore 'out-of-ordinary' resource lists


Zero-in on the immigration date


What you take home

A wealth of knowledge from an experienced library professional and researcher! Lyn's email, should you have any follow-up questions and an information package filled with new resources for your next research challenge.