"Introduction to Genealogy: Getting Started"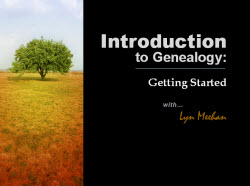 Genealogy is the science of researching the relationships of individuals and their families from generation to generation. To trace your ancestors, we start with ourselves. This presentation is an introduction to basic genealogy. You will become acquainted in developing a plan, building your road map and gathering documentation.


What you will learn how to
Get started… develop a plan

Building your roadmap… number #1

Gathering process… homework

Evidence and citations

Where do we go from here?

Libraries and archives


Electronic resources


What you take home
A wealth of knowledge from an experienced library professional and researcher! Lyn's email, should you have any follow-up questions and an information package filled with new resources for your next research challenge.