"Irish Research"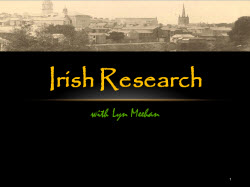 Irish genealogy can present a conundrum over other ethnic research in terms of finding key resources to continue the family tree. Its historical 'terrible beauty' interwoven with the mass destruction of Four Courts is eternally written. Still, those family historians possessing optimism and enthusiasm, equipping themselves with quality resources and endurance can march on to the beat of a different drum overcoming hurdles by such tragic loss.



What you will learn

What genealogical resources to confront in Canada and/or in the U.S.

Time periods of Irish emigration

Five books that should act as a core library for Irish genealogy

How to tap into library and archive catalogues

What is DIPPAM?


Tips on what resources to examine when researching Irish-Canadian Colonial records
What you take home
A wealth of knowledge from an experienced library professional and researcher! Lyn's email, should you have any follow-up questions and an information package filled with new resources for your next research challenge.