"Irish Resources: Locating Your Tools"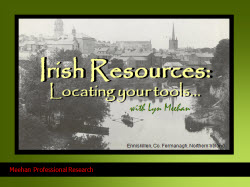 Whether starting an Irish genealogical library or researching your family tree, join Lyn and acquaint yourself with books, periodicals, maps and electronic resources that will help you overcome the hurdles imposed by such tragic loss.






What you will learn how to

access five books that will act as a core library for Irish genealogy

differentiate between Irish land administrations

find periodicals and maps that will assist your research

find archives and libraries and learn how to tap into their catalogues


evaluate genealogical databases
What you take home
A wealth of knowledge from an experienced library professional and researcher! Lyn's email, should you have any follow-up questions and an information package filled with new resources for your next research challenge.