"Research Without Borders"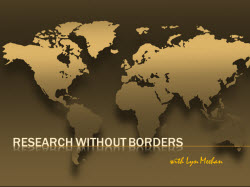 Keen on researching your European ancestors, but unsure how to confront language barriers and other international obstacles? Get your virtual passport ready for a trip across two continents from Sweden to Canada. Using a singing, dancing Swedish bachelor as our case study and guide, we'll follow his paper trail of records across Europe to North America. From Skảne to the northern Alberta homestead now owned by Ms. Meehan, we'll learn how to access library and archival collections, databases, and government resources; and reacquaint yourself with vital records, census, land records, immigration and naturalization, and military records that benefit the genealogist. You will be amazed how easily you can trace your wandering European ancestor back to their origin without knowing the language or leaving home.



You will learn about

Your ancestor's place in history

Name Game

Building a solid trail of evidence

CSI meets Criminal Minds… Profiling!

Understanding immigration

Embracing geography

Overcoming foreign languages


Types of archives
What you take home

A wealth of knowledge from an experienced library professional and researcher! Lyn's email, should you have any follow-up questions and an information package filled with new resources for your next research challenge.