"Thoroughly Modern Genealogy"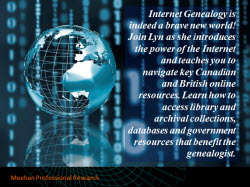 Internet Genealogy is indeed a brave new world! Join Lyn as she introduces the power of the Internet and teaches you to navigate key Canadian and British online resources. Learn how to access library and archival collections, databases, and government resources that could benefit the genealogist.




You will learn how to

We will discuss and explore major, minor and unordinary Canadian and British websites

That some websites will be free to explore, while others require the user to pay annual, monthly fees, or purchase tokens for pay-per-view (PPV)

That some websites are a collection of databases, while others may contain one


That consumers no longer have to be hostage to BIG name companies





What you take home

A wealth of knowledge from an experienced library professional and researcher! Lyn's email, should you have any follow-up questions and an information package filled with new resources for your next research challenge.